Our Management Team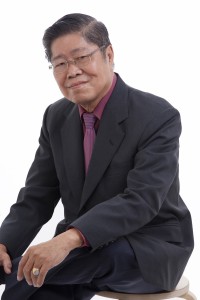 Mr. Phua Yong Bee,
Founder & Managing Director
Mr. Phua Yong Bee founded Soon Yong Trading in 1972 as he was passionately motivated about bringing a culture of excellence Singapore – a young nation at that time. His decision to transform the company from a trading company by entering the Telecom Sector proved to be a visionary decision for the group.
Mr. Phua is recognised as an industry stalwart and many clients and even peers in the industry seek his advice regularly. He laid a strong value-based foundation for the company and is revered by all for the same today.
Mr. Phua is known for his keen business acumen and unmatched foresight – qualities that helped him to steer the company through many challenging times. The fact that Soon Yong Trading survived and grew through multiple financial crises speaks volumes of his able leadership.
A Bachelor of Business Administration, Mr Phua is fondly known as an encyclopaedia of the Telecom Sector.
Mr. Phua Tien Liang,
Director
Mr. Phua Tien Liang has taken over the responsibility of company's operations from his very able father. Known for his result-orientation, he drives his teams to deliver on promises made to the customers, in a time bound and cost efficient manner.
Tien Liang is steering the company in new strategic direction consistent with the demands of modern technology. He handles innovation and strategic planning within the company. He is constantly exploring new business opportunities both in Singapore and overseas.
Tien Liang has over 17 years' experience in operations management and business development. He holds a Bachelor of Construction Management and Economics from NUS.
Mission and Vision
Our Vision
"Our vision is to establish a successful footprint in the Telecom sector across Asia Pacific; to rise to a position as a trusted and reliable partner in infrastructure development. "
Our Mission
We are committed to building a resourceful company that plays a significant role in every important telecom project in Asia Pacific region. To achieve this, we build a sense of partnership in all employees and accomplish the highest standards of quality for our customers.
Our value Proposition
Why do our customers choose us?
Over the past four decades, Soon Yong has been awarded major projects consistently in Singapore. Our capable teams have delivered consistent, reliable and predictable results. Their performance speaks for itself and has resulted in valuable trust our customers reposed in us.
Here's a summary of some of the qualities we have enshrined in our working – be it planning a major project or looking into every small detail while executing.
We adhere to the highest quality and safety standards in all the projects we execute
We are adaptable and have always absorbed new technologies
We are a dynamic team, therefore, offer competitive solutions
We are agile and can respond swiftly react to your project requirements
We are innovative and like to take on new challenges
We are committed to face challenging situations and deliver as per our customer's expectations
Our History
We started our business in 1972 as a trading company. Not resting on our early success, we decided to venture into the telecom industry in mid-Seventies. We have been serving the sector even since.
As specialists in laying cables in all kinds of terrains, Soon Yong has played a pioneering role in transforming Singapore's telecom industry. Singapore today boasts of efficient and reliable accessibility to its telecom infrastructure from almost every corner of the island.
Over the years, we have seen how highly demanding Singaporeans kept on asking for increasingly sophisticated services. We played a part in this evolution by helping the telecom operators to respond with a fast-changing technology adaptation culture. It has been a great teamwork.
Little wonder, we are the go-to company for almost every telecom player or infrastructure developer in Singapore when it comes to tackling complex challenges.
Our Values
It is crucial for us to impart our values to each and every member of our team at Soon Yong. With a strong foundation of excellence, they thrive in a helping and nurturing environment. Our team embodies characteristics that help us stand apart from the rest.
Despite our steady growth, we have always retained our culture as a family business that believes in personal bonding . We treat everyone like our partners in growth and take pride in empowering them. We have shown strong commitment to our code of conduct and business ethics such as
Responsibility
Integrity
Commitment to Quality
'Customer first' attitude
Communication
Humility
Empowering and creating leaders
Besides, all the members of the Soon Yong family have shown a tremendous 'Learning Attitude' over the years and picked up new skills within no time.