Experiencing weak Wi-Fi signal? We have the solution!
Face plate conversion bundle deal from $288**
(Conversion of 4 Data Points)
Included in bundle:
FREE site consultation worth $50 + 1 Year onsite warranty for modules.
Structured Cabling Caters For
Structured Cabling
What is structured cabling?
Structured cabling is an organized system of wiring and installation of data points at different parts of your home or office to allow multiple devices to access a broadband connection at the same time.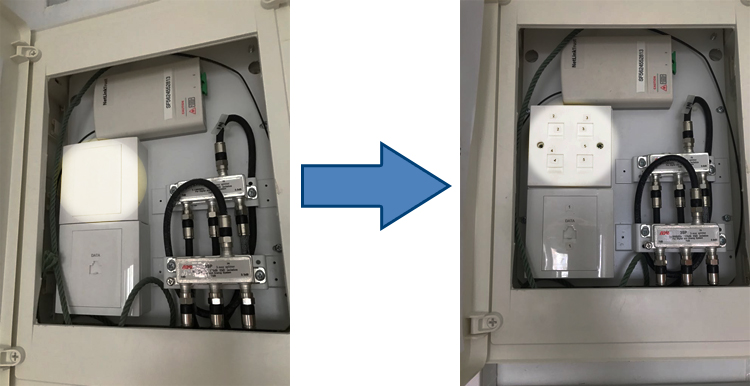 Conversion of telephone point to 4 data points
Benefits of wired connection compared to wireless
| | |
| --- | --- |
| Wired Connection | Wireless Connection |
| Up to 10 Gb/s Consistent Speed | Up to 866Mb/s depending on signal strength. |
| Lower Latency | There is a slight delay when signals travel back and forth between a Wi-Fi device and the wireless router. |
| Reliable Connection | Wireless connection is subject to a lot more interference and the signal strength weakens when passing through obstacles like walls and doors. |
| Better Security | Radio communications are more susceptible to eavesdropping than wired communications. |
Tips for planning your home network system
Before the network cables are laid, you will need to plan for your needs and the coverage area. The possible data points needed as well as how the cables can be run more efficiently have to be considered.
Estimate the number of data points required in each room.
Location of data points at the required areas.
Consider Wi-Fi for open spaces with no obstacles
Seek specialist advice
Typical layout of structured cabling when you engage Soon Yong, Singtel's appointed contractor
Image courtesy of Singtel – www.singtel.com
Soon Yong – Network Wiring Specialists
Soon Yong Trading is Singtel's appointed contractor who specialises in wiring installation with 30 years of experience in this field. Customers who take up our products and services are entitled to FOC site survey/consultation service as well as a 1 year warranty period.
For more information or to book an appointment, please contact us by filling up the form or call 6382 3935!